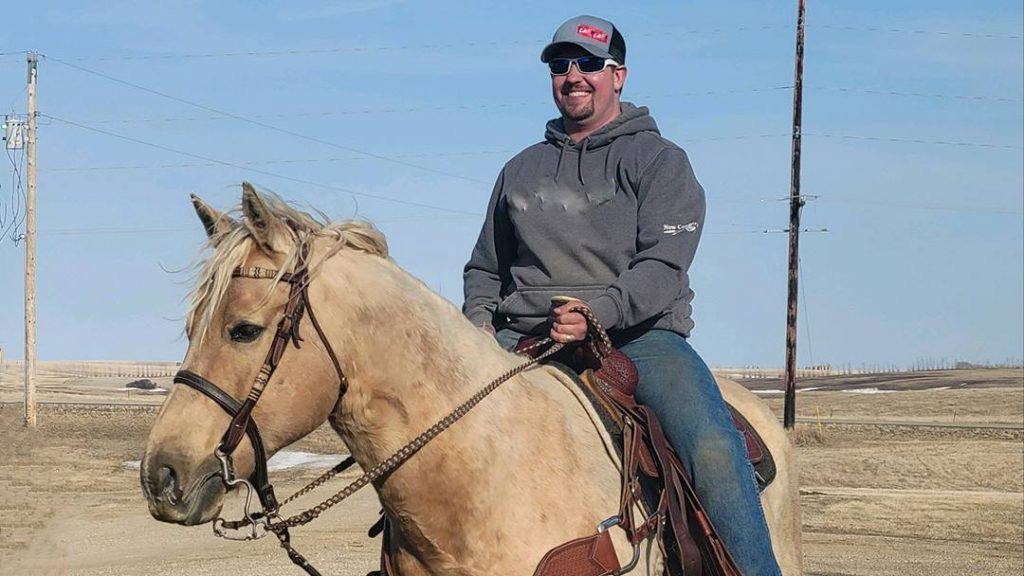 Andy Grundstad was sick and tired of feeling sick and tired.
"I felt like I was 80 years old," says Andy, a 35-year-old agronomist living outside of Crosby, North Dakota.
He'd been diagnosed with vasculitis as a child and lived with various health issues while care teams struggled to provide a comprehensive diagnosis and effective treatment.
Andy's symptoms worsened after a stroke in 2017. Near-daily fevers and joint pain accompanied a second stroke in 2020. In addition to the short- and long-term dangers associated with stroke, his ailments affected his work and home life and sapped him of his energy.
In 2020, Andy was referred to Mayo Clinic after local care teams could not pinpoint a diagnosis. Following a series of evaluations, he and his parents were referred for genetic testing in collaboration with the Center for Individualized Medicine.
After several months, tests revealed a deficiency of adenosine deaminase 2, a protein that supports the lining of blood vessel walls.
Andy's case was published by Rheumatology (Oxford) in 2021 to highlight the complex genetic testing required to diagnose a deficiency of adenosine deaminase 2, known as DADA2.
"It is important to acknowledge the limitations of any genetic testing," says Filippo Pinto e Vairo, M.D., associate consultant in the Center for Individualized Medicine and the Department of Clinical Genomics. "DADA2 is a recessive disease, so we needed to find a second variant. A higher resolution genetic test, along with enzymatic testing, detected the variant missed by the first genetic panel and ultimately confirmed DADA2."
DADA2, a genetic condition discovered in 2014, has approximately 600 known cases worldwide, according to the DADA2 Foundation. Patients are typically diagnosed with vasculitis at an early age. They may also experience recurrent strokes, severe systemic inflammation, immune deficiency, and damage to tissues and organs. 
The symptoms are managed with several broad immunosuppressant medications that also, in many cases, carry significant side effects. Andy's DADA2 diagnosis meant his care team could reduce his medications and tailor his treatment plan.
Andy has not suffered another stroke since his team modified his treatment specifically for DADA2. He's been able to wean himself off several immunosuppressant medications, resulting in renewed energy and vitality. Perhaps most importantly, he's also found hope and peace after years of searching for answers to his medical issues.
"To finally have a diagnosis after so many years felt like such a weight lifted off my shoulders," Andy says.
Kenneth Warrington, M.D., chair of Rheumatology in Rochester and a member of Andy's care team, credits Mayo Clinic's multidisciplinary care and coordinated access to genetic testing resources as crucial to Andy's diagnosis.
"I work at Mayo because of the teamwork and collaboration evident in a case like this," says Dr. Warrington. "It's gratifying to assist someone with such a rare and complex disease."
That assistance — and the caring nature of the people who provide it — means a great deal to patients like Andy.
"Mayo treats patients from around the world, but it still has a small-town feel," Andy says. "When I come in for checkups, I'm recognized and greeted with smiles. I feel taken care of to the utmost and put my faith in Mayo Clinic because they are the best."
Related articles